Community Events
PVP Chamber of Commerce Economic Forecast Breakfast and Board Installation January 13, 2017
Nationally recognized economist from Beacon Economics of Los Angeles, Christopher Thornberg, spoke Friday at the Terranea Resort in Rancho Palos Verdes to about 200 people in an event hosted by the Palos Verdes Peninsula Chamber of Commerce and presented by Malaga Bank. Sacha Ohara was sworn in as the Chairman of the Board along with the incoming Board of Directors for 2017 with local community leaders and business owners in attendance.
Sacha Ohara was congratulated after the event from Eileen Hupp, President and CEO of the PV Chamber of Commerce and Christopher Thornberg.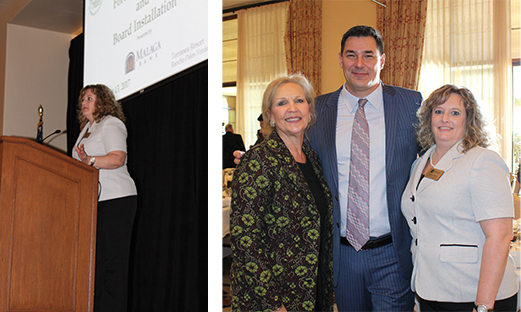 Toys for Troops' Kids Toy Drive
The spirit of teamwork was again demonstrated by the Bank's employees, their families and our giving customers. Once again, we were proud to support the Kiwanis Club of Torrance's toy drive "Toys for the Troops' Kids" and the resulting efforts were tremendous. Children with parents actively serving in units of the National Guard, Air Force, Army, Marine Corps and Navy were recipients of generous donations.

Volunteer Center
In support of The Volunteer Center's Operation Teddy Bear, Malaga Bank set up donation boxes at all branch locations. Our drive for pencils and gluesticks were contributed to "literacy schoolbags" donated to underserved first-grade students in our communities.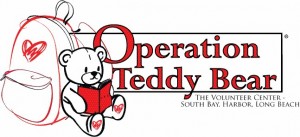 Torrance Business Expo October 25
The Torrance Business Expo was a fun and successful evening showcasing some of the best of South Bay's local businesses with a Happiest Place on Earth theme.

Treasure Island October 23
Pirates are on the Peninsula! A treasure of an evening, the Treasure Island party benefitting the Palos Verdes Library District was hosted in a beautiful home located by the ocean. Attending "pirates" included our own Ana Straser, Kim Edwards, and Mark Smith who was the Master of Ceremonies that evening.
Congratulations on 20 years of service
President Randy Bowers and Senior Management are proud to recognize Maureen Bray for 20 years of excellent service with Malaga Bank.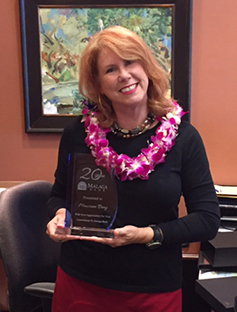 Girl's Night Out October 6
Malaga Bank was honored to once again attend the highly anticipated event, Girls' Night Out, benefiting the Cancer Support Community of Redondo Beach. With great pleasure our CFO Jasna Penich presented the organization with Malaga Bank's donation of $1,600. We had a wonderful time filled with fun, great food and laughter all for a good cause!.


Pink Out Day September 30
We were pleased to sponsor our third annual Pink Out Day to raise funds in support of the local non-profit Cancer Support Community-Redondo Beach and the many people they service in our community. Our staff, their families and our customers were invited to stop in to any branch or office lobby to make a donation in Malaga's Pink Out Day box. Malaga pledged to match the donated funds up to $500.00! In total, $1,600 was donated.

Torrance Chamber Mixer September 22
Malaga Bank hosted the Torrance Chamber of Commerce's September's Chamber mixer at our Torrance branch. Chamber members, South Bay professionals and our Malaga Bank staff celebrated the last day of summer with delicious appetizers from Lisa's Bon Appétit, drinks and the excitement of opportunity raffles. We're proud to provide a place for members of our community to connect and build long-lasting relationships!

Heal the Bay Costal Cleanup September 17
In support of the California Costal Cleanup's largest volunteer day on the planet, Malaga Bank chose to volunteer at the Cabrillo Beach site. Our staff and their families had a blast cleaning up one of our local beaches. Malaga Bank is passionate about protecting the ocean that we love from pollution.

Partnerships
Community Partnership
Partnerships matter at Malaga Bank. The trust and confidence of our customers has enabled us to prosper as the community bank of the South Bay for over thirty years. In turn, we continually look for opportunities to strengthen the communities where we work and live. Our long-term investment in the community has made giving back a key component of Malaga Bank's culture. Our employees and senior management alike are using their passions to make a difference through their involvement in a diverse range of local organizations.
Our staff has volunteered over 1,000 hours of their time to local organizations in which they believe. Listed is a sample of organizations we've worked with in the community.