Community Events
Stuff the Bus campaign benefitting LAUSD and TUSD students
It's no secret that Malaga Bank's customers and employees are passionate about supporting education in our community. Assemblyman David Hadley, R-Torrance, invited the community to donate school supplies for South Bay's K-12 students in need in the Gardena, Lomita, Harbor City, and Torrance areas. Our Torrance branch manager, Bryan Grageda, was one of the many driving forces that made this operation a success. Both of our Torrance branches were donation sites for the "Stuff the Bus" campaign collecting donations of backpacks, binders, notebooks, paper, pencils and everything in between.

Harbor Interfaith Services Food Drive
An outstanding show of support for Harbor Interfaith Services in San Pedro came from donations made by customers and employees contributing to advancing Harbor Interfaith's mission of empowering the homeless and working poor to achieve self-sufficiency.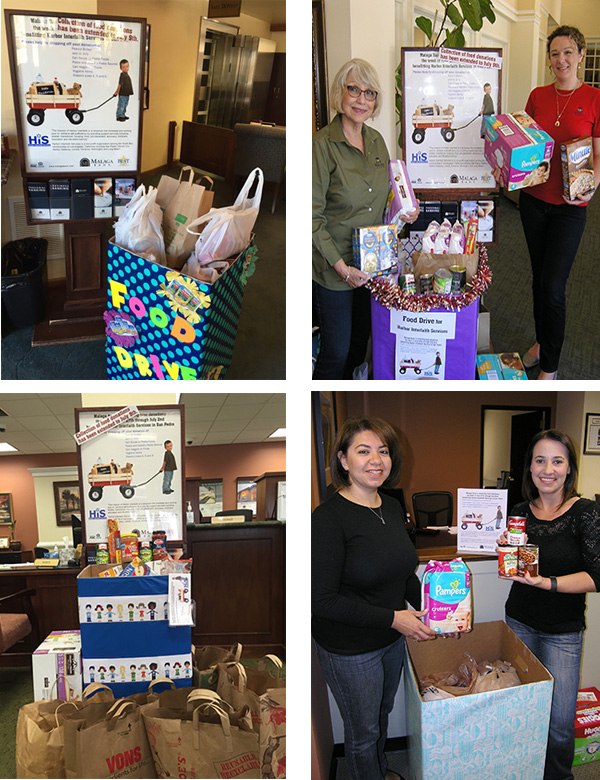 Celebate Wellness June 26
Malaga Bank joined the Redondo Beach Cancer Support Community for an afternoon of fun and flavor at their 20th Annual Celebrate Wellness event. Guests of Malaga Bank were SVP/Sacha Ohara with her husband Mike Ohara along with Eileen Hupp, President of the PV Chamber of Commerce and her son, Robbie Hupp.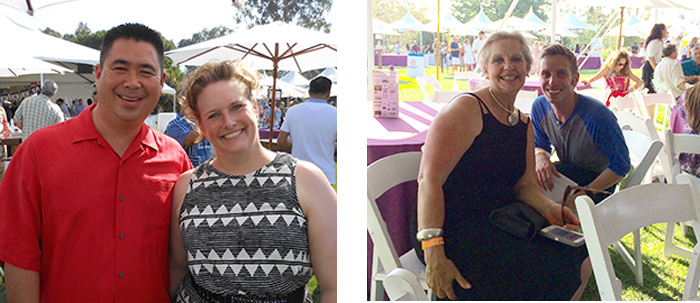 Malaga Cove 2016 Summer Concerts Series
Beginning July 13th through August 24th, the Malaga Cove Business and Professional Association kick off the Summer Concerts Series. Come and listen to live music each Wednesday evening from 7-8pm at the Farnham Martin Park next to the Malaga Cove library. For more information visit malagacoveconcerts.com.
Congressman Ted Lieu – "A Report from Congress" April 22
As the Diamond Level sponsor of the Palos Verdes Chamber of Commerce, Malaga Bank proudly presented the event "A Report from Congress," featuring Congressman Ted Lieu. This event provided a forum for members of our community to hear political updates and connect with our local congressman. Malaga Bank management and invited guests that morning were Dave Carney, Sacha Ohara, Congressman Ted Lieu, Randy Bowers, Dr. Ariane Schauer, Burt Arnold, and Charlie Peterson.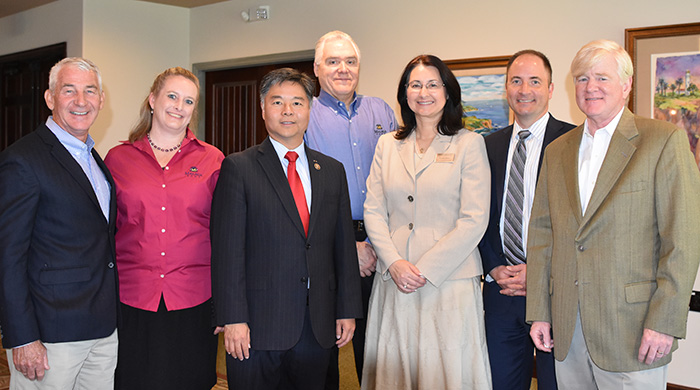 Celebrating Earth Day at Malaga Bank
Education and Malaga Bank go hand in hand as we celebrated Earth Day at Malaga Bank. During the week of April 18th, we displayed all the entries from local school children in our first "What Earth Day means to me" drawing/coloring competition. 4 winners were chosen from the different grade levels and received a $25 gift card along with their art entries displayed at all branch locations. The Torrance branch manager, Bryan Grageda, enjoyed a visit from Dr. Michelle Wechsler, Principal of Nativity School, and Donna Duperon, President & CEO, Torrance Area Chamber of Commerce along with two of the participating young artists, Sasha and Rafael.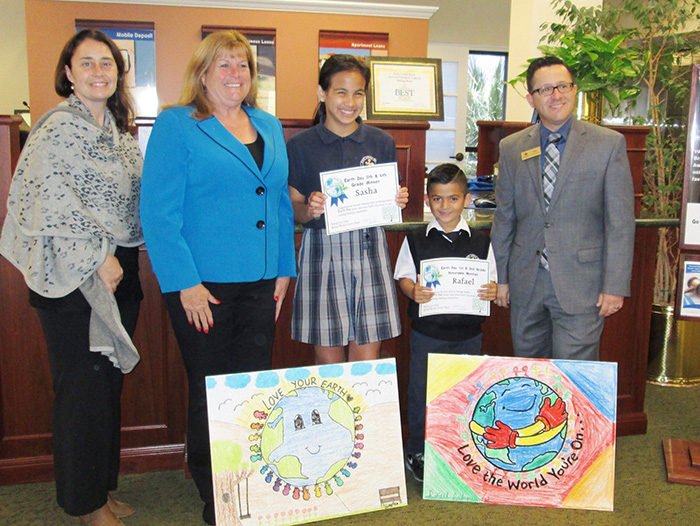 Palos Verdes Chamber Mixer April 21
We were proud to host the Palos Verdes Peninsula Chamber of Commerce's monthly "Business After Hours Evening Networking Mixer" at our Rolling Hills Estates branch this April. Chamber members, South Bay professionals and our Malaga Bank staff enjoyed delicious appetizers from The Original Red Onion, drinks and the excitement of an opportunity raffle. We are passionate about providing a place for members of our community to connect and build long-lasting relationships!

Bunka Sai Torrance April 17
Malaga Bank volunteers joined in the festivity of the Torrance Sister City Association (TSCA) 44th annual Bunka-Sai Japanese Cultural Festival. This annual event features authentic demonstrations of Japanese dance, koto and shakuhachi music, and much more.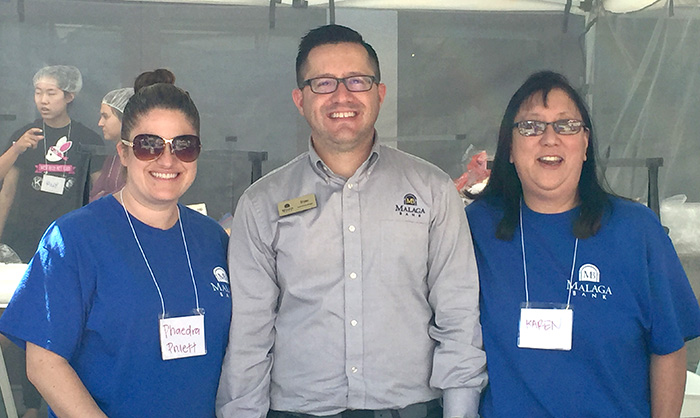 Applauding the Warner Grand's 85th and Grand Vision's 20th Anniversaries
On April 9, 2016, we had an unforgettable evening dancing the night away at the Warner Grand Theatre, gala honoring Grand Vision co-founder and San Pedro visionary, Gary Larson. As a Gold Level sponsor, our donations help Grand Vision to preserve and promote the historic Warner Grand Theatre and its initiatives of spreading the love and knowledge of music to our community's youth.
Participants from Malaga Bank left to right were Sacha Ohara, Rose Mary Callahan, Lori Terzoli, Connie Begovich and Jasna Penich (President of the current Board of Directors for the Grand Vision Foundation)

Congratulations on 20 years of service
Malaga Bank is proud to recognize Stephanie Calandrino for 20 years of service with Malaga Bank.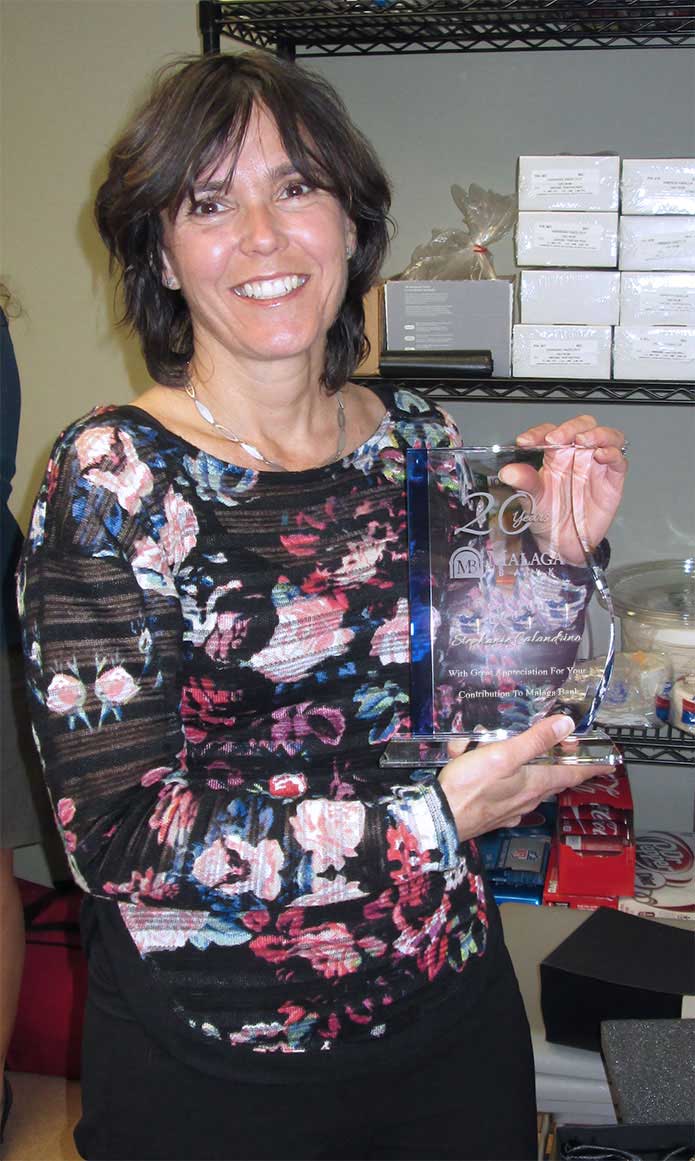 The South Bay Police and Fire Memorial Foundation March 14
Malaga Bank is passionate about supporting The South Bay Police and Fire Memorial Foundation's dedication to providing financial support for families of fallen or disabled police and fire personnel within our communities. Molly Reichle a Manhattan Beach volunteer of the foundation along with Malaga Bank employees had a blast selling mulligans and raffle tickets at the fundraiser in their benefit, the Annual St. Patrick's Day Golf Tournament. Laker Girls were on hand to sign autographs and pose for photos.

Community's Child
Moved by the mission of Community's Child, our Torrance Branch held a food drive from March 7th through the 12th open to both employees and our customers. All the food collected was donated to the homeless, as well as disadvantaged women and children across the South Bay.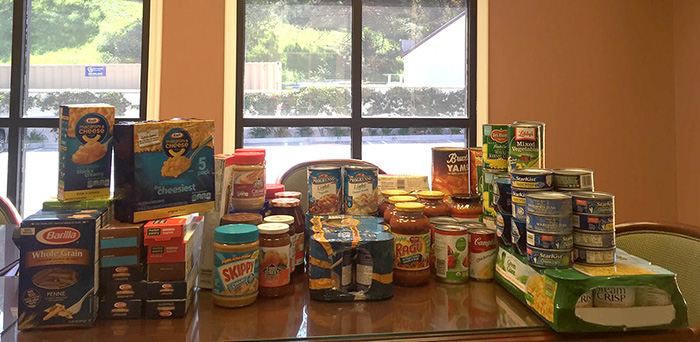 Money Matters for Business-Roadmap to Business Success-Finance Panel February 9
John Tellenbach, Malaga's Chief Credit Officer, along with a panel of local experts, provided an open forum of information and discussion on Financial Success for small businesses.

Partnerships
Community Partnership
Partnerships matter at Malaga Bank. The trust and confidence of our customers has enabled us to prosper as the community bank of the South Bay for over thirty years. In turn, we continually look for opportunities to strengthen the communities where we work and live. Our long-term investment in the community has made giving back a key component of Malaga Bank's culture. Our employees and senior management alike are using their passions to make a difference through their involvement in a diverse range of local organizations.
Our staff has volunteered over 1,000 hours of their time to local organizations in which they believe. Listed is a sample of organizations we've worked with in the community.
Cancer Support Community
Grand Vision Foundation
Palos Verdes Chamber of Commerce
Peninsula Education Foundation
Port of Los Angeles High School
San Pedro Chamber of Commerce
Shakespeare by the Sea
Torrance Area Chamber of Commerce