Community Events
Congratulations for 20 years of service. April 16, 2021
Malaga Bank is proud to recognize Dee Bailey for 20 years of service.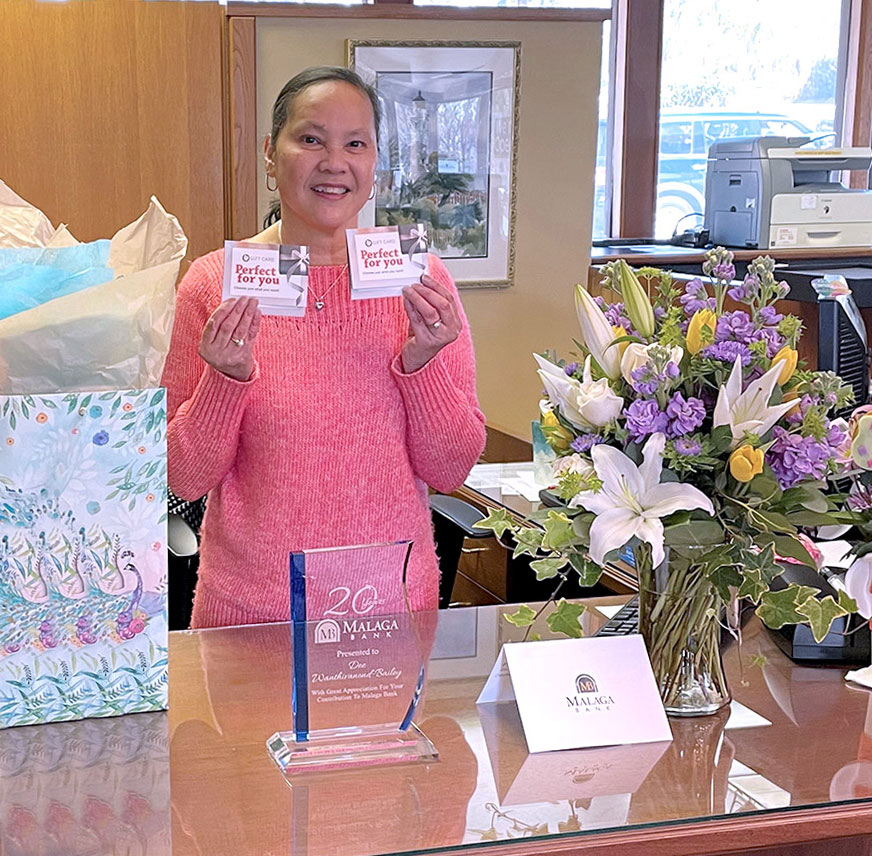 Toys for the Troops' Kids Toy Drive, El Segundo December 17, 2020
Thank you to the customers and staff who donated unwrapped toys to the "Toys for the Troop's Kids" drive. We believe giving back is part of the holiday spirit and we're proud to support the Kiwanis Club of Torrance's toy drive once again. Children with parents actively serving in units of the National Guard, Air Force, Army, Marine Corps and Navy were recipients of the generous donations.

Congratulations for 20 years of service. October 10, 2020
Malaga Bank is proud to recognize Naher Elramly for 20 years of service.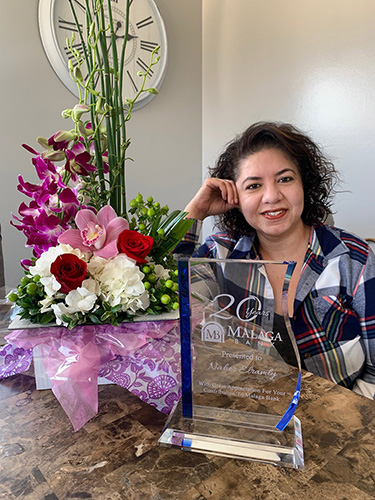 Cancer Awareness Week Check Presentation, October 13, 2020
It was our pleasure to present a check to Cancer Support Community-Redondo Beach with the donations from Malaga Bank's Cancer Awareness Week. Sacha Ohara, SVP and Assistant to the President along with Jasna Penich, Malaga's EVP/CFO, presented Joey Shanahan, CFRD Executive Director/CEO of CSCRB, with Malaga Bank's Cancer Awareness Week donation of $4,356.75!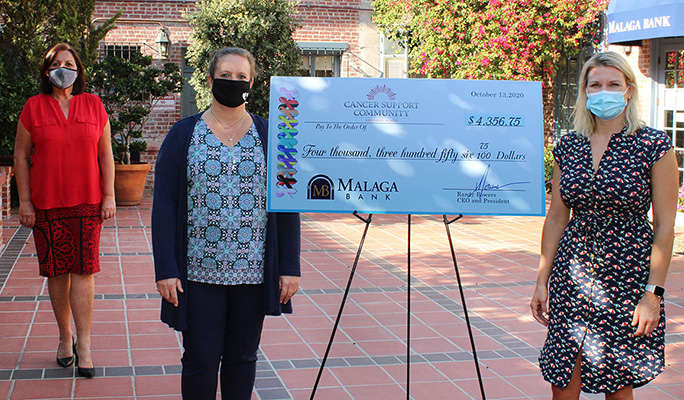 Cancer Awareness Week - September 21-25, 2020

We look forward to Cancer Awareness Week to raise funds in support of the local non-profit Cancer Support Community-Redondo Beach and the many people they service in our community. Our staff, their families and our customers were invited to make a donation to Malaga's Cancer Awareness Week collection box. Malaga again pledged to match the donated funds, up to $2,000, bringing the overall donation to a total of $4,356.75.

Drive Thru Ice Cream Social, Ernie Howlett Park – Sept 4, 2020
It takes a tight knit community to respond to current events and host a community Drive-Thru Ice Cream Social! 553 people drove through the park during the event and received a Malaga Bank cinch back pack filled with fun family activities and an ice cream for everyone in the car. Julia P from Malaga Bank and Rolling Hills Estates Mayor, Velveth Schmitz, was on hand to safely hand out the goodies to the families.

Local South Bay Rotary Clubs donate to Marines and their families-Camp Pendleton – August 2020
Generosity was the message this summer. Trucks full of donated clothing for babies, toddlers and the family, fresh fruits and vegetables, baby furniture, toys and gift cards were delivered to the Camp Pendleton Marines and their families. Helping with the collection are Julia P from Malaga Bank and Suzi Zimmerman.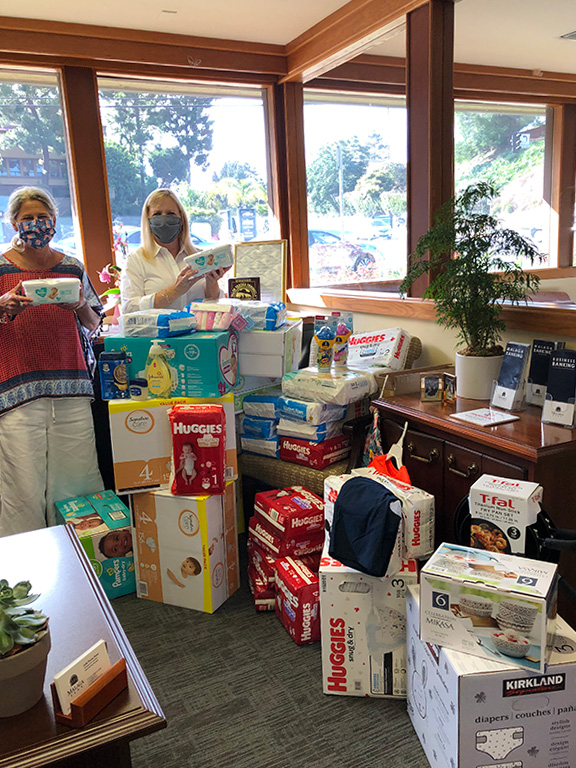 Community Celebration Sweepstakes Winners Announcement - April 29, 2020
Congratulations to the winners of our 35th Anniversary Giveaway $5,000 Community Celebration Sweepstakes! 4 winners each received $250 and the Nonprofits they selected received $1,000 each. Karin P. selected the St. Francis Episcopal Church in Palos Verdes, Preston G. selected the Cancer Support Community Redondo Beach, Tony M. selected The Center for Learning Unlimited in Torrance and Vern H. selected the Holy Trinity Church in San Pedro.
Preston G. "I want to sincerely thank Malaga Bank for their many years of supporting Cancer Support Community Redondo Beach. More than ever we are grateful for the advantages of partnering with a superior local community bank."
Vern H. "Can't believe that I won. Seldom if never, happens. Many thanks to everyone at the San Pedro branch of Malaga Bank. Most happy for my church, Holy Trinity. I'm sure that the donation will come in handy during these trying times."

Partnerships
Community Partnership
Partnerships matter at Malaga Bank. The trust and confidence of our customers has enabled us to prosper as the community bank of the South Bay for over thirty years. In turn, we continually look for opportunities to strengthen the communities where we work and live. Our long-term investment in the community has made giving back a key component of Malaga Bank's culture. Our employees and senior management alike are using their passions to make a difference through their involvement in a diverse range of local organizations.
Our staff has volunteered over 1,000 hours of their time to local organizations in which they believe. Listed is a sample of organizations we've worked with in the community.